Nursery and Reception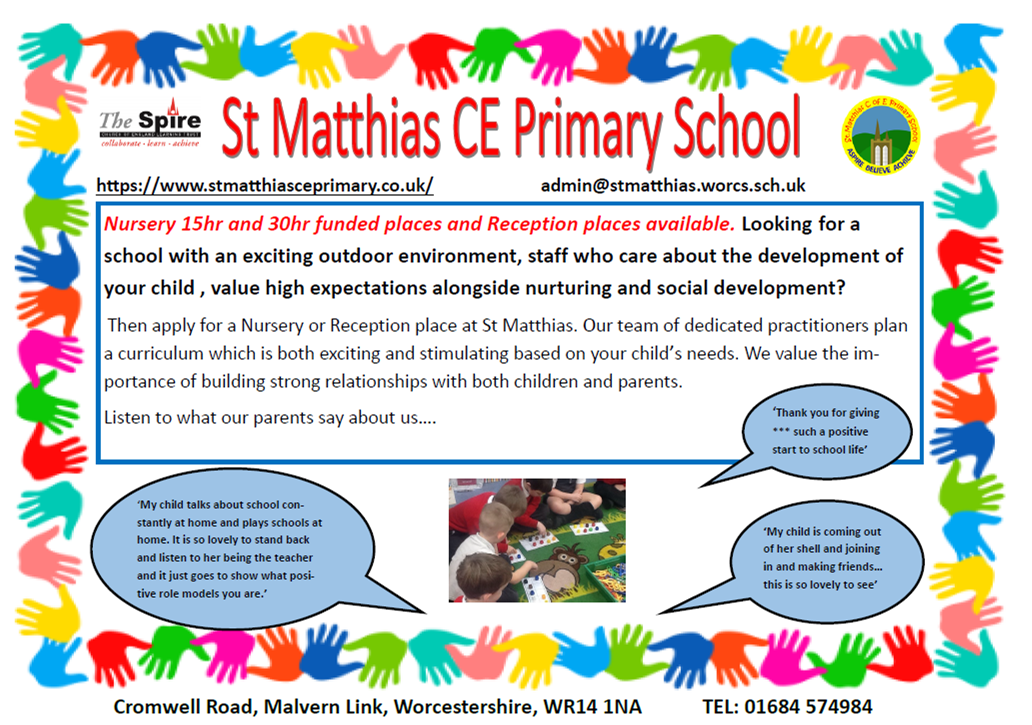 ---
Academic Year
2019-20
Friday 4th October
Year 6 children joined Reception Class this afternoon to work with conkers ready for our Harvest Festival. We will be doing something special so make sure you come to the service on Wednesday 16th October.
We then shared stories and the younger children loved having the Year 6 children read to them.
All About Me
We have been learning all about ourselves. To end our topic we have designed and made pizza faces. They were yummy.
Harvest
On Wednesday 16th October it is our school Harvest Festival at St. Matthias Church. We will be learning all about what Harvest is and to help us with this we will be focusing on the story The Little Red Hen. The children will love reading this story and we will be using our narrative frames to help us understand and retell the story.
The Three Little Pigs
This week we have been focusing on the traditional tale of The Three Little Pigs. We have explored the story and completed narrative story maps. We talked about Who? Where? When? and What Happened? We also built houses for the pigs in our construction area and painted brilliant pictures of pigs.
Family Reading
Thank you to all of you who have come to share stories on a Friday afternoon with your child. It has been a lovely session and one that we all look forward to. We look forward to seeing you every Friday at 2.30pm for stories and biscuits.
PE with Albion Foundation
We have enjoyed PE with Josh from the Albion Foundation and the children are developing their gross motor skills brilliantly. We have been moving in different ways and following instructions very well. Keep up the good work.
We have had a lovely time settling into our new class and have made great friends and developed fantastic routines.
We are now learning all about 'My Family' and traditional tales. We will be reading Little red Riding Hood, The Three Little Pigs and Little Red Hen.
Phonics

We are have been working really hard with our phonics in the Early Years. The children have a very good understanding of their letters and sounds and have loved learning how to write the letter shapes using the correct letter formation.

We have lots of fun when learning about our letters and sounds and it was brilliant to see the children exploring the shaving foam and painting pig pictures when learning all about 'p'. Keep up the hard work

Our children in the Early Years have had an amazing first 2 weeks at school. They have wowed us with their confidence, enthusiasm and thinking skills. We have had lots of fun working with the children to develop friendships and relationships and it is such a lovely environment to be in; happy and busy.

The children have all settled well and Reception children are already reading and writing CVC words as well as working hard on solving number problems. Keep up the good work.

Mr Salmon
A very warm welcome back to all of our Early Years families; we hope you have had an amazing and relaxing summer together and have returned raring to go in our new Early Years setting.
Reception Information
Reading - book change is available on a Monday, Wednesday and Friday. Please ensure that your child brings their book folder in every day so that they can read in school and to bring home important letters.
Your child will be bringing home a phonics book that will have our daily sounds that we are learning in them. Please work through this book with your child every night and bring it into school everyday to be marked and updated.
PE Kits - need to be in school every day as our PE days can change at any time. Please ensure all kit is named, including pumps, and that you check pumps for size regularly. We will send PE kits home at the end of each half term.
This half-term the Reception children will be having PE on a Thursday with the Albion Foundation Coach and Wednesday with Dance in Motion.